The car accessory market will reach USD 626 billion by 2026. That means more businesses and retailers will join this industry because of the ever-growing need for car buyers and motorists.
So, if you want to invest in the car accessory business, keep a strict quality check for each product. Why?
The knowledge regarding car accessories is getting common these days because of their high demand. As a result, most of your customers know exactly what they are looking for. That's why to make the best of your business, have a deeper look into the need for car accessory quality checking.
Why is Quality Checking Necessary?
Before finalizing the order, you must check the quality of car accessories like portable tire inflators. Since numerous brands are selling the same kind of products, you must deliver the best kind to your customers.
Moreover, your customers look for inexpensive yet high-quality car air pumps and vacuum cleaners from a reputable brand. Therefore, you can first get a sample and thoroughly check its quality.
There are the following aspects you should consider while checking the quality of a car accessory:
Manufacturer's standard – The car accessory must comply with the manufacturer's standard in terms of performance and durability. The Chinese manufacturer has their own labs where they test the products. Therefore, you can get their test reports and tally the results with your examination.
Client's Specifications – It's important to verify whether the accessory fulfills the client's specifications. Since you place customized orders, your request to make technical changes is also a part of your order. That's why you must always check the client's specifications, be it technical or visual.
Consistency – Consistency is important in every business operation, especially in manufacturing. If the car accessories are of consistent quality, you can easily retain customers. Besides, you might have to notify people about the upcoming modifications in the products so that they don't get surprised while using the product.
Limitations – Another important reason to check a product's quality is to reveal its limitations. Since people use portable tire inflators and vacuum cleaners in a real scenario, they must know how much they should rely on the car accessories by the Chinese manufacturer. That's why you can offer warranties with each product.
Buying decision – A QC-passed car accessory influences the customer's buying decision. Be it car manufacturers, retailers, or automobile service providers, everyone believes that a QC-passed product is more reliable in terms of performance and durability.
Now let's have a look at what car accessories should be checked for quality.
Essential Car Accessories That Should be Checked for Quality
Although it's important to check the quality of every product you buy, regardless of the quantity, a few car accessories top the list.
1. Tool Kit
A car tool kit must be high-quality and always available wherever you go. This set of items is also known as an emergency tool kit as it helps you go through unwanted times with your car.
If the tool kit has low-quality items, you might not get out of the uneasy situation. Hence, always check the quality of the car tool kit before heading on the road, especially on a long road trip.
The following items must be in your car tool kit:
Torque wrench
Socket set
Breaker bar
Impact wrench
Screwdrivers
Rubber mallet
These are the basic items for a car tool kit. You can add more to the list if you want.
2. Tire Inflator
A tire inflator helps you fill your car's tires without going to a gas or service station. It's a helpful gadget that comes in two types:
Since it works on the air pressure like a traditional car air pump, you must ensure it works fine under normal circumstances.
To check its quality, simply turn on the cordless tire inflator and fill the air in the tire. Some models come with a digital display of air pressure. Keep the pressure of your car's tires to 32 PSI – 35 PSI as recommended.
Another factor you should check is the lifespan. The cordless car air pumps run on batteries. So once the battery gets low, you have to recharge them before it's too late.
Besides, some mini car inflators might notify you about the low battery status.
Durability is also an important factor. Although the compact size of these inflators makes them portable, you must check the material quality while placing the order.
Generally, the outer body of the inflators is made of either plastic or an alloy. But not every manufacturer produces durable mini car air pumps.
Therefore, first, check the durability of this car accessory and then finalize your decision. People usually keep the car accessories in the trunk or under or inside the tool kit. Therefore, the inflators must be durable enough to bear the load of other objects.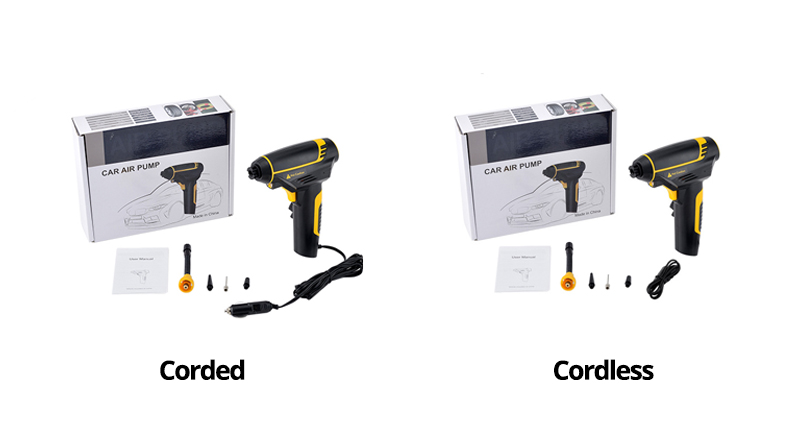 3. Jump Starter
Most drivers know how to jump-start a car. But what good might this knowledge bring if you don't have a top-quality jump starter?
That's why you must keep a jump starter in your car that performs well.
The purpose of a portable jump starter is not only to revive a dead car battery but to charge it and inflate the car's tires.
It has a digital LED to display voltage and air pressure. You can also place customized orders by requesting changes to:
Color
Shape
Size
Voltage
Brand
Packaging
A jump starter is technically the most complex car accessory. It works electrically and might be dangerous if you don't use it with care.
Due to its high performance, you must check its quality to avoid any future damage.
Check whether it charges the car battery without any problem. Also, make sure it inflates the car tires without giving any electrical shock or burning smell.
Contact the car accessory manufacturer if you feel something's wrong with the portable jump starter.

4. Phone Holder
Another important car accessory that's very helpful for long road trips is the phone holder. You can place this holder at the following three places inside your car:
The phone holders can either be attached to the car's air condition vent, dashboard, or windshield.
By placing a phone in the holder, you can easily activate navigation and reach your destination without asking anyone. Also, you don't have to put your hands in your pockets and create plunder while looking for your phone.
Simply mount the phone in front of you and make or attend calls if necessary. You also have the option to give voice commands and enjoy the smart functions of your phone.
Check the following features while ordering a car phone mount holder:
Size – The holder must hold a particular range of phone sizes. That means the holder must not be smaller than the customer's requirements. Also, the weight of the phone holder matters. Make sure it's heavy enough to support the phone's weight.
Wireless Charging – The advanced phone mounts come with Qi wireless charging technology. The holder gets power from your car's DC socket. These holders are compatible with Android (10W) and iPhones (7.5W).
Durable – Always check the phone holders are strong enough to accommodate a heavy phone. Sometimes while attending a call, people unintentionally exert more force and break the holder. Therefore, check the strength of the holder's stem as it bears the maximum load when you apply force on it.

Important Quality Certifications
The Chinese manufacturer has all the necessary quality certifications for car accessories. These certifications include:
BSCI – The Business Social Compliance Initiative (BSCI) certificate is for manufacturing companies that are in touch with international supply chain partners.
CE – Conformité Européenne (CE) certification ensures the safe for sale feature of a product in the European Economic Area (EEA). Moreover, safety refers to the environment and health factors.
MSDS – Material Safety Data Sheet (MSDS) is an important document that includes detailed information about a product. All the technical and non-technical specifications of a product are mentioned in MSDS.
ISO9001 – It's a part of the ISO certifications family that ensures the car accessories fulfill all the requirements for the Quality Management System (QMS).
UL – Underwriter (UL) is a safety certificate for the compliance of a manufacturing company with the industry standards.
RoHS – Restriction of Hazardous Substances (RoHS) is a European regulation restricting manufacturers from using hazardous substances while making products.
Quality Checkpoints
After the necessary quality certifications, let's have a look at the quality checkpoints:
During sourcing – Check the quality of the raw material before starting the manufacturing process.
During production – Ensure the quality is consistent throughout each production phase, i.e., initial stage, transition stage, and final stage.
Before shipment – Once the manufacturing is done, test the quality of the accessories before packing them for delivery.
Conclusion
At Best Avehicle, you get all the necessary certifications for your validation. You can also request a sample of an accessory to test its performance. The sample is free of cost, and you inspect each product feature.
Moreover, this Chinese manufacturer has displayed all the necessary certificates on their website to win customers' trust.
So check the quality of your required products and place your customized car accessory order now.