If the tires are properly inflated, they ensure safety, enhanced performance, and longer vehicle life. There are automatic air compressors at stations, but they sometimes show inaccurate readings with lesser time limits.
Carrying a portable tire inflator will give you the luxury of air filling at any place and at any time. Below, we will list the 5 best picks of portable car tire inflators for 2022.
Best Portable Tire Inflators For 2022
We possess an expertise of 10 years in the manufacturing of car accessories. Therefore, at "Avehicle" you will find popular models of car tire inflators and car vacuum cleaners at low-priced rates so that you may earn an appreciable profit.
In addition, we also do customization of the products as per the demands of our valuable clients.
The following models of car tire inflators are ranked as top 3 in Amazon. It is a sign of trust from the customers and a motivation for the business people that they can invest in these products with full confidence.
AstroAI Air Compressor Tire Inflator
Quick inflation and Advanced Accuracy
This tire inflator is manufactured using high-grade quality materials, which make this product capable of filling the air in no time. Typically it can pump air into car tires at the speed of 35L/M. For Instance, it can inflate the tire 195/55/R15 car tire from 0 to 35psi in just 5 minutes.
The pump is calibrated professionally. Thus it gives a 1.5% reading of air pressure in the tire. After continuous use of 10 minutes, you should give rest to the pump to cool down. The amount of time spent resting should be proportional to the time spent using. If you have to use the tire inflator for 10 minutes, it is better to cool it by giving an equal rest time.
Programmable Inflation
The 'M' button is used to set the unit of pressure. Similarly, the '+' and '-' buttons are used to set the amount of pressure needed by the user. The programmable feature automatically controls the pump, and it shuts down when it reaches the preset pressure limit. However, the pressure should be higher than the current air pressure in the tire.
Notable features
For Instance, PSI, kPa, BAR, and KG/CM can be selected as the pressure units. You can easily alter the pressure units can be changed very easily; just one tap is needed. It comes with a built-in LED light and white LCD that is easily readable even in the dark.
MacLife Tire Inflator Portable Air Compressor
Fast Inflation Backed By Easy Operation
If your car tires are of standard size, this powerful inflating machine can fill the air in the tires in just a few seconds. It works on the 12V power supply of the car and attaches the stem to the tire valve. Press the power button on the small air compressor, and it will do the rest of the job. This tire inflator is an emergency solution during travel.
Auto Shutdown
This model comes with an auto-shutdown feature; before starting the inflation work, you must preset the desired pressure and then start the operation. When it reaches the desired level set by you, it will automatically shut down. Thus, it is safe to use as there are no chances of overinflation of air in the tires.
LED Lighting System
Due to its LED lighting system, it can be easily used as a powerful nighttime inflator. Moreover, if you are in a low-light environment, the LED lightning feature is the best thing for your support. The lengthy power cord of 11.9ft can easily move through the front and rear wheels without hassle.
AstroAI 12V DC Portable Air Compressor Auto Tire Pump 100PSI
Faster Inflation and Easy To Use
This car inflator is also a faster machine one which performs the task at 25L/M, and it is capable of successful inflation of 195/55/R15 tire from 0 PSI-36 PSI in just 5 minutes.
Portability and Auto-Shutdown
Like many other tire inflators, this one is also equipped with an automatic shutdown feature once the air pressure reaches the desired preset cutoff value. It comes with a storage feature that enhances the inflation experience. Some great portability features are also present.
Power cord
The power cord is 9.84 ft which is enough to inflate both front and rear tires easily; thus, you will save both time and energy. In addition, the longer power cord is suitable for use in most scenarios.
EPAuto Digital Tire Inflator, 12V DC Portable Air Compressor Pump
Convenient to use
You can use the car cigarette lighter socket for plugging this car inflator. It only consumes 120 to 180 watts, with a current of 10 to 15amps, the standard 12V in the case of DC inflators. Beware! It is only designed to work with 12V DC, so never try to plug it in a 110 V AC plug.
Multiple usages
Besides filling the air in the car tires, you can use it in the inflation of basketballs and swimming pool accessories. For this reason, they are backed with additional adaptor pins.
Capacity
It can work fine with small to medium range vehicles, and it is not suitable to work with heavy vehicles such as trucks. It does not support any of the truck tires.
Multiple Display Styles and Flash Light
There are four display units, including PSI, KPA, BAR, and KG/CM, which you can select as per your convenience. It comes with a bright torch for nighttime and low-light work.
Auto Shutdown
This model also includes the most useful feature of automatic shutdown when the desired pressure reaches. Moreover, it has overheating protection, which shuts off automatically when the machine is overloading.
M3668 Digital Display Cordless Auto Stop Tire Inflator
Unique shape and performance
This one is newer in design and quite a popular seller in the market due to its unique shape and extraordinary performance. This little compressor can easily inflate the tires of cars, bicycles, motorcycles, and even the balls due to its four different modes.
Fast Inflation
In only 10 minutes, you can fill the air in a wide flat tire and reach the desired pressure.
Flash Light
The flashlight is useful for nighttime operation, the mouth of the inflator can be easily located, and it is portable.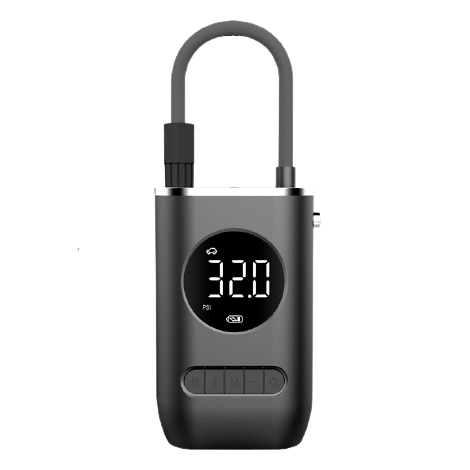 Conclusion
Car tires which are properly inflated ensure the optimum speed of the vehicle as well as safety of the travellers. We do most of the maintenance of the vehicle but the tires are often neglected. To make your car rides safer and hassle free we have introduced you the best car tire inflators which we manufacture and customize for our clients.
These powerful, compact and portable machines are ranked among top brands in Amazon which is due to their appreciably higher quality and the recognition from our clientage. If you want to do business with us do it in full confidence.