With the rise in car sales and accessories, people look for convenient products to maintain their vehicles. From those accessories, portable tire inflators are gaining popularity due to their efficient performance and user-friendliness.
So it's high time for you to consider:
Dealing in the car air pumps
Expanding your car accessory business
Portable Tire Inflators Market Size
You already know how rapidly the automobile industry is growing. If it keeps growing at this pace, the tire and inflator manufacturers will also expand their business across the world.
In fact, the portable mini car air pump had a value of $1,105.85 million in 2020's tire inflator market. This huge market value is not going to remain constant. It'll increase.
A Handy Accessory for Road Trips
Agree or not, cars have become a necessity for daily commuters. Although fuel prices are on the hike, people are no more hesitant to buy a car for themselves.
So whether it's about a road trip or a routine drive, people want to keep a portable air compressor in their car. It's because people are now aware of the usefulness of this car accessory.
People know that keeping a big air compressor might not be a good solution. Therefore, they now prefer carrying at least one mini car air pump wherever they go.
This awareness has benefited the whole tire inflators market. From local businesses to B2B and B2C wholesalers, this tool is catching more attention like never before.
Future Estimates
According to another research, the portable car air pump market will reach $1465.6 million by 2026.
So, that's a big opportunity if you are starting a car accessory business. Also, you can go for horizontal product line expansion by adding portable car inflators to your catalog.
5 Reasons for the Rise in Demand for Portable Tire Inflators
Below, we have listed some possible reasons behind the rise in demand for portable tire inflators.
1. Cost-effective
No doubt, mini air pumps for cars are cost-effective. How?
People find it hectic to leave their house and drive to an automobile service center just to fill up the tires. That's an additional fuel cost. Also, people who don't live downtown will be least likely to cover the long-distance just because their car tires are low on air pressure.
Even though the tire filling-up cost varies from $1.50 – $5.00, everyone wants to save a penny these days.
Therefore, the only option people have is to buy a portable tire inflator.
That's a one-time investment. On the B2C level, people only have to buy this product from you. So there's very low maintenance without any hidden costs.
The compact size of the M3665 Cordless Rechargeable Tire Inflator is what customers love. It looks like a gun. Also, you don't have to connect any cord to this inflator.
On the B2B level, you can wholesale the car air pumps with your private company's label printed on them. That will create a brand image of your business in the car accessory market. So that's an investment worth trying.
2. Low Maintenance
Since the portable car air pumps work on electronic boards, they require very low maintenance. Moreover, the electronic components include:
AC/DC Power Supply
Lithium-Ion Battery
Air Pressure Sensor
Digital Display
Apparently, these components don't need any kind of maintenance. But sometimes, if any technical glitch pops up, the company will fix and update that.
Also, the maintenance depends on how the customers request to customize the tire inflators. Maintenance may include:
Controlling
Air pressure measurement
Connectivity/battery management
If there is a need for customizing any factor, the manufacturers will update you about the upcoming maintenance.
3. Adjusting Tire Pressure is Easy
Some of the mini car air pumps have a pressure regulator. Therefore, your customers and other users can easily regulate the pressure and adjust it as per requirement. This feature is pretty useful as different tires require different pressure settings.
Also, your buyers can use this accessory to inflate:
Sports Balls
Motorbike Tires
Bicycle Tires

4. A Handy Tool for Off-Road Trips
Driving off-road is full of enjoyment until the car tire goes flat. On top of that, it's hard to find a car service station nearby. But if people keep the portable car air pump in their vehicles, offroading will never be so challenging.
The car inflators can fill up the tires according to the terrain's situation. But, of course, the bumpy ride is harmful to the tire's health. That's why experts recommend low air pressure in the vehicle's tires while off-roading.
5. Best Alternative for Professional Tire Inflator Service
Your customers no longer need to go to the professional tire service centers. The tire inflator kit has a complete solution to fill up the car tires.
Also, these portable car pumps are easy to use. Your customers can easily understand how this accessory operates.
Plus, you can get customized manuals of the products. For example, design, language, and instructions; you can also request these customizations to the inflator's manual.
So, people shall use the car air pumps with your company's logo as an alternative for the professional tire inflator service.
Want to Start Your Own Tire Inflator Business?
So, it's high time to consider Best Avehicle as your car inflator manufacturer. By partnering with a Chinese company, you can get low-cost, fully customized portable tire air pumps for your business.
Moreover, you will get all the benefits of OEM and ODM manufacturing processes like:
Business Expansion
Private Logo
Technical Modifications
Personalized Packaging
Since this partnership has no intermediary, you can get your order in bulk at a discounted price. As a result, you can wholesale the tire inflators at affordable rates.
Besides, you have the liberty to set the product's price while selling it directly to the customers.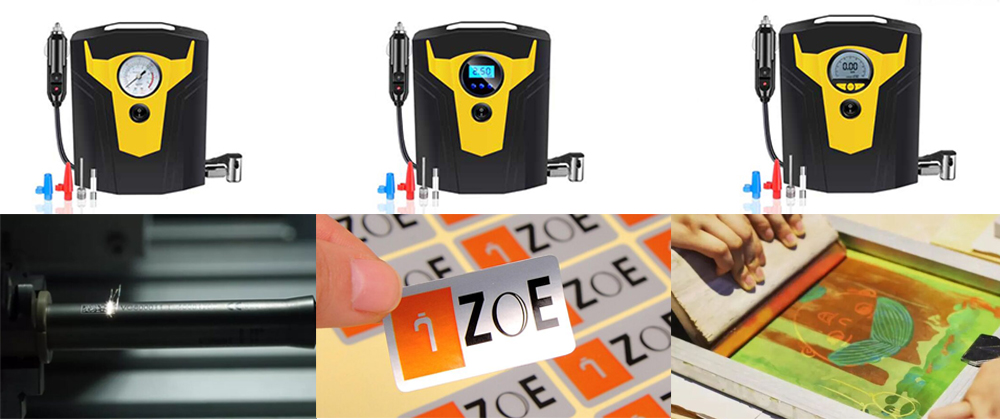 Conclusion
It's time to distribute and wholesale tire inflators with private company labels. In addition, you will get free samples of logo molding or printing on the product.
So it's a win-win situation for your business because people want portable car air pumps. Also, your car accessory business will flourish.
Therefore, contact Best Avehicle's technical and sales support team and get a quote for the portable tire inflators today.