You already know the growth in the number of tire inflator manufacturers is increasing. With so many producers available, you have multiple options to do business with.
However, there are risks associated with each one of them.
So you have to choose the best tire inflator manufacturer to get the most out of your business deal.
That's why we'll share why it's important to choose the right car air pump manufacturer and its benefits.
Why Choosing the Best Tire Inflator Manufacturer is Important
Connecting with the right manufacturer is the priority of any venture, especially the car accessory business. It stabilizes your business for the next 5-10 years.
Moreover, it helps you build strong connections with your retailers and vendors.
When the end customers use the tire inflator having your company's brand, they will look for other car accessories from your business when needed.
The following points will highlight the importance of choosing the best tire inflator for your business:
Your Reputation is at Stake
Stiff Competition in the Market
Uncertainties in Product Delivery
Uncertified Manufacturer Can Cause Problems for Your Business
It's true that your reputation depends on the tire inflators you sell to other retail businesses. That's why it's important to choose the right manufacturer.
If you receive bogus tire inflators instead of the ones manufactured by Best Avehicle, you might lose your reputation in the market.
As a result, you will face dire consequences in terms of losing clients.
We all know that the competition is quite tough, and a tire inflator manufacturer with all the right tools and products can help you get on top.
All your product deliveries should be on time. Otherwise, that might have a negative effect on your business reputation.
The car air pump producer you choose for your business must conform with the industry standards. You should check the necessary certifications and verify them before finalizing a deal.
Thus, choosing the best car tire air pump manufacturer is the first and most important phase for your business.
Benefits of the Best Tire Inflator Manufacturer
Now let's have a look at how choosing an experienced tire inflator manufacturer benefits your business.
High-Quality Tire Inflators
We at Best Avehicle manufacture high-quality tire inflators. Generally, they come in two types:
Corded Tire Inflators
Cordless Tire Inflators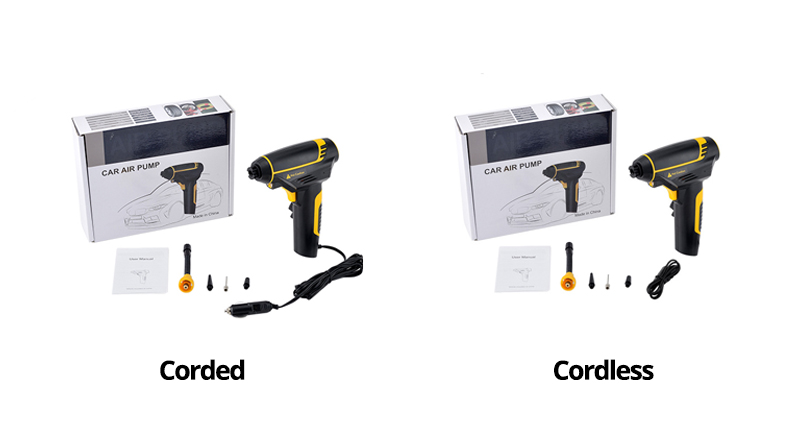 The majority of businesses and customers look for smart car accessories. Keeping that need in mind, our manufacturing team integrates technology into the tire inflators.
You can find a portable air compressor for cars with an analog/digital gauge.
The high-tech features in the portable tire inflators make it easy to fill up the tires. Also, these inflators are versatile, and customers can use them for motorcycle and bicycle tires as well.
Consistency
You will find consistency in each product we deliver to you. That consistency refers to the following top factors of a tire inflator:
Performance
Design
Durability
Such consistency in manufacturing the tire inflators is necessary to retain the clients.
If your retailers and customers don't find consistent products, that will affect your overall business.
People will start giving negative reviews about the products, which will bash your credibility in the car accessory market.
Complete Tire Inflator Information
Doing business with Best Avehicle gives you all the information about the tire inflators. You can use that information for promotional purposes.
When you share the details of tire inflators with your retailers and end customers, they will start trusting your business more.
That's one of the ways you can easily retain the target audience by providing them with the right kind of information.
Various Options to Choose From
We offer various types of portable tire inflators. The two categories are "corded" and "cordless."
Additionally, you can choose the pressure gauge, either digital or analog. You can also customize the product specifications and its design.
If you are ordering tire inflators to sell on commercial platforms or directly to the customers, tell us the customization accordingly.
Flexible Order Limits
An experienced tire inflator manufacturer provides flexibility in placing orders. Particularly, it gives ease to the new car accessory businesses.
Since there is no limit to placing tire inflator orders, you can first verify your requirements. Then you can contact our team of experts here to place your order.
Relaxations in Payables
We also don't go for strict payment plans. You can pay the remaining amount in the timeline we mutually set while finalizing the deal.
You can pay via the following:
TT (Telegraph transfer)
LC (Letter of Credit)
Any other online transfer method
We don't normally work on credit. However, there may be exceptions for long-term or recurring customers with a good reputation.
Timely Deliver
Doing business with the best tire manufacturer ensures timely product delivery. Your inventory will not run out of stock.
Also, receiving tire inflators on time and then delivering them to the retailers will enhance your business reputation in the market.
Logo Customization
You can also rebrand the portable mini car air pumps with your company's logo. That helps you spread brand awareness in the car accessory market.
The logo customization is available in the following types:
Laser Logo
Label Sticker
Silk Printing
Embossed Logo
Authentic and Certified Processes
Our manufacturing and delivery processes are authentic. You can check our list of international certifications here.
Better Business Projection
When you choose a tire inflator manufacturer with the best resources, you can easily predict your business projection.
This factor plays an important role in the cash flow when you visit banks and investors.
So by choosing the best tire inflator manufacturer, your business can thrive in terms of revenue as well as legitimate growth.
Value-Added Services
Best Avehicle offers value-added services such as:
Product customization
Professional marketing pictures
On-time delivery
These services add value to your business as well.
You can go for specific modifications in the tire inflators as per the need of each retailer.
Product Warranty
The tire inflators come with a 1-year warranty. That's another big plus for choosing the best car air compressor manufacturer. Remember that not every manufacturer offers you a warranty on their products.
So these are the benefits you get by doing business with the best car air pump manufacturer.
Conclusion
If you are looking to partner with the best tire inflator manufacturer, Best Avehicle is ready to help your business.
So contact our experts here and get the best mini car pumps with the customization you want.