You might find multiple tire inflators in the car accessory market. Each inflator is different from the others, but they all serve the same purpose. But if you are looking for a top-quality product, two names top the list, Dual Power AC/DC Fastest Car Tire Inflator and EPAuto Portable Air Compressor and Tire Inflator.
Both brands, Best Avehicle and EPAuto offer high-tech air compressors and other car accessories as well. So if you are deciding which car tire inflator to order, read this comparison between Dual Power AC/DC Fastest Car Tire Inflator and EPAuto Portable Tire Compressor and Tire Inflator.
Dual Power AC/DC Fastest Car Tire Inflator
It's the best tire inflator available in the Best Avehicle product list. The Dual Power AC/DC Fastest Car Tire Inflator is also a trending automobile market accessory for various reasons. For example, it's:
Multi-purpose (kayaks, balls, car, and bicycle tires)
Digital technology
Dual power setting
Pressure configuration
This high-in-demand digital car air pump is also used in-home to inflate toys and other entertainment. So let's look at how it works and its different features.
Working
This air pump has a built-in compressor that inflates the object quickly. You must connect it to an AC or DC power source to activate the motor. You can also find two sockets on the top-right side of the device.
The first socket is for an AC cable connection, which is unavailable in the car's lighter. However, you can use an AC to DC car lighter converter and make this device work. The purpose of AC connection is to make the tire inflator functional with other power sources in residential and commercial connections like houses and shops.
The second socket is for DC connection which is commonly used in vehicles. You can simply connect the cable to the socket and the car's lighter. Once the device starts getting power, the LED display will light, and you configure it as you want.
Power
The Dual Power AC/DC Fastest Car Tire Inflator works on the following power and voltage settings:
AC: 220/110 V
DC: 12 V
Power: 12 W
You can ask for customization by contacting Best Avehicle experts. They will guide you on what changes might fulfill your audience's and business needs.
Pressure
This air compressor gives 101 – 150 PSI to inflate tires and other objects quickly. You can also set the desired pressure on the LED digital pressure meter.
Size and Weight
The size of one unit is 6.69 x 3.54 x 9.37 inches, and it weighs 1.5 kg. You can easily keep it in your car as its compact size doesn't occupy much space.
Pros
Powerful
Dual power settings (AC and DC)
LED pressure meter
Configurable pressure meter
Affordable
Compact
Con
EPAuto Portable Air Compressor and Tire Inflator
The air compressor by EPAuto comes with a universal connector. The manufacturers also made this product using cutting-edge technology. However, its traditional shape might be a deal-breaker for many buyers.
Working
It's a traditional tire inflator with a digital display and configuration panel. You just have to connect it to the 12 V car lighter and turn on the switch. Ensure the power button is set to OFF before connecting the cable. You might not hear the disturbing noise air compressor due to the noise suppression technology.
Many customers gave positive feedback on the EPAuto Portable Air Compressor and Tire Inflator's overall performance. The auto-shut feature is also a big advantage which saves your tires from over-inflation.
Power
You only have to connect the device to the car lighter as it needs a 12 V DC power supply. But, unfortunately, there is no AC connection, so you can't use it anywhere except for your vehicle.
The bright flashlight also uses power which means if there's voltage fluctuation, you might not get the required pressure. So consider this factor before turning on the flashlight.
Many customers complained that this accessory got stuck while inflating the tires. So that's another drawback of EPAuto's tire inflator.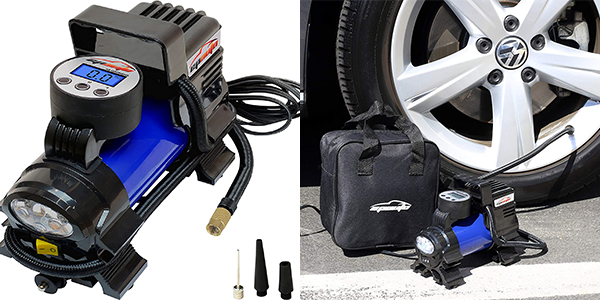 Pressure
The max pressure of the EPAuto Portable Air Compressor and Tire Inflator is 100 PSI. That's why this device takes so long to inflate the tires. Using this accessory, you can also inflate light truck tires, but it will consume time.
The pressure setting of this device works fine as it senses the tire's air pressure using a meter. Although you can't manually set the pressure, the motor will automatically turn off once the tire gets enough air.
This technology prevents car tires from bursting due to excessive air pressure.
Size and Weight
This device's size is 13.5*8.1*5.6 inches, and it weighs 1.7 kg. However, the shape of this tire inflator is not satisfactory because of the compressor. It also doesn't easily adjust with other accessories in your car like toolkits, jack, and the spare or a stepney wheel. Therefore, consider this factor before making a final decision.
Pros
Auto-shutoff technology
Overheat protection
Flashlight
Cons
Only DC power setting
Slow inflation at higher PSI
Only 100 PSI max pressure
Gets stuck while working
Awful shape
What Tire Inflator to Go For?
Considering the overall performance, the Dual Power AC/DC Fastest Car Tire Inflator by Best Avehicle tops the list. It uses advanced technology and the digital LED panel is easy-to-use for customers. This device also works continuously without getting stuck. So investing in this digital car tire inflator is undoubtedly a better bargain.
On the other hand, the EPAuto Portable Air Compressor and Tire Inflator is another affordable option. However, you might not get top-level performance in this accessory.
Final Verdict
Check out all the key features in the tire inflators from the above comparison. Both car pumps are valuable for different customers. However, the Dual Power AC/DC Fastest Car Tire Inflator wins the competition because of its performance, configuration, and shape.
You can also customize this tire inflator, including the product's color, design, power setting, and packaging. So place your customized orders now and boost your car accessory business with Best Avechile.